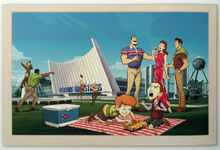 The timeline of events that occur on the animated television series The Venture Bros. can be slippery and difficult to follow. Below is the established chronology as determined from episodes of the show, interviews with show creators Jackson Publick and Doc Hammer, and any other official sources.
Timeline
1902
1907
1910
1952
1958
The Guild of Calamitous Intent signs the Guild Non-Assail Pact of 1958. Paragraph 20, Line 17, regarding Employer's Rights to a Deserter, covers the subject of "Service Abandonment".[5]
1959
1960
1962
1963
1966
1967
1968
1969
1970
1971
1973
1976
1977
June 23, 1977: Venturion strangles a young Rusty Venture following a glitch in his programming brought on by memories of young Malcom and Rusty playing together. Kano twists his old friend and former partner Venturion's head off to prevent injury to Rusty, afterward taking a vow of silence as penance.[3][16]
Summer 1977: A drunk Dr. Z attempts to vandalize the Venture compound with Shrill Spector and Scary Nilsson, instead finding the discarded remains of Venturion in a dumpster. He reassembles the cyborg, erases his memories, and reprograms him for calamitous intent, renaming him Vendata.[16]
1978
Jonas Venture Sr. invites honorary gold star Rusty Venture Fan Club members from the local orphanage to visit his brand-new, state-of-the-art fallout shelter, where they (and Paul Entmann) inadvertently become trapped for around three decades due to the machinations of the artificial intelligence M.U.T.H.E.R.[24]
1979
Rusty Venture receives a medallion, winning "Science Prize '79" for a paper he wrote about gravity.[25]
1980
1987
1988
1989
1990
1994
1998
2003
2004
2006
2008
Trivia
Hank and Dean Venture
Gallery
References