Tatyana works in Hells Dine?
Edit
Just wondering but isn't Tatyana one of the waitresess in Hells Dine serving Red Mantle, Dr. Z and others?
One of the waitresses does look very similar to Tatyana, but if I'm not mistaken Tatyana has longer hair. TheNicestGuy (talk) 23:51, February 6, 2015 (UTC)
Exterior of Don Hell's
Edit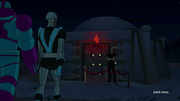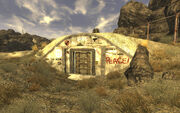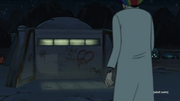 The exterior of Don Hell's is extremely similar to the exterior of the Hidden Valley bunker in the 2010 video game Fallout: New Vegas. The overall shape of the building is not very close, except that they are both concrete bunkers in a rocky valley. Don Hell's front door might qualify as "vaguely inspired by" the Fallout door (which is identical to countless other doors throughout the game). What really does it is the graffiti: Peace and ban-the-bomb imagery on both can't be coincidence. Check the photos.
But I hestitate to conclude that the background artist directly referenced the game. Does anyone know of any common source they might both reference? Was there something like this in Dr. Strangelove?

TheNicestGuy (talk) 23:44, February 6, 2015 (UTC)
Community content is available under
CC-BY-SA
unless otherwise noted.