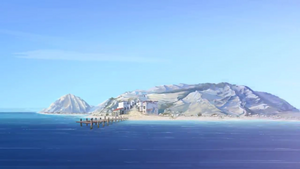 Spanakos is a small Greek island that exists within the world of the Venture Bros.[1] The island is located within eyeshot of Skorpios.[2] The island's population is mostly poor and rural and lacks access to the internet. Their primary resources seem to be goats[1] and pumice[2]. Once per year, a local holiday called Spanakopita is held, mostly due to the patronage of the wealthy Dr. Venture.[1]
History
On October 20, 1968, Jacqueline Kennedy was to wed Aristotle Onassis in the Greek islands. Jonas Venture Sr. and Team Venture, along with many other celebrities, attended the wedding. Jonas left young Rusty Venture under the care of H.E.L.P.eR. aboard the X-2.
1968 was a harsh year for the people on the barren island of Spanakos, spurring Giorgios and several of the island's other residents to rob the yachts and boats of the wedding attendees, including the X-2. Among the things they stole was a trunk which the thieves thought was filled with money or valuables, but which actually held Rusty acting out the Trojan Horse. When they discovered Rusty, the inadvertent kidnappers tried to contact Jonas but there was no answer. L. Ron had kidnapped Jacqueline Kennedy, necessitating the intervention of Team Venture; in the process he disabled Team Venture's radio equipment by destroying the X-2.[1]
After three days passed with no response, Little Rusty began to despair, so the kidnappers pretended the kidnapping was a traditional part of a local festival called Spanakopita. Jonas and Team Venture came back, giving Giorgios and the other kidnappers a severe beating before leaving with Rusty. Giorgos vowed to make Venture pay. Strangely enough, twenty years later an adult Rusty returned ready to celebrate the "festival" he remembered so fondly. For the past two decades Rusty has returned every year, paying Giorgos a hefty sum of money each time and in an unexpected way making Giorgos' vow come true.[1]
Trivia
Spanakos is patterned after the Greek island of Gyali, an island that in the real world is on the opposite side of Greece as Skorpios.[2]
Rusty has said that he intended to retire to the island of Spanakos with the fortune he earned from the teleporters he invented. However, the teleporters were ultimately stolen.[3]
Brock Samson has left at least a couple of women pregnant on past outings, as evidenced by children with notably blonde and poofy hair.
Episode Appearances
References
↑ 2.0 2.1 2.2 Go Team Venture!: The Art and Making of The Venture Bros. (2018), p. 245
Community content is available under
CC-BY-SA
unless otherwise noted.