RICO is a minor character on The Venture Bros.
Now residing in Puerto Bahia, RICO is an ape-like mutant and the presumed creation of Ben.
As Dean Venture intrudes upon Potter's House, RICO becomes agitated and takes Dean by surprise, knocking him out. After Dean awakens in Ben's care, RICO keeps sniffing Dean's genitals. Although RICO isn't used to guests, he seems to (by Ben's estimation) have taken a liking to Dean, or at least his balls.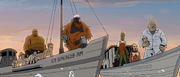 Having seemingly broken away from Ben, RICO is seen among the Abominations that arrive in Puerto Bahia by boat at the end of the episode.
Episode Appearances
Edit
RICO is short for Ricombinate lusus naturae.

Ricombinate refers to his DNA having been recombined.
Lusus naturæ is a Latin term that roughly translates to "sport of nature", "God's joke", or "freak of nature".

Ben implies that RICO may have acrofrontofacionasal dysostosis, an extremely rare disorder characterized by intellectual disability, short stature, hypertelorism, broad notched nasal tip, cleft lip/palate, postaxial camptobrachypolysyndactyly, fibular hypoplasia, and anomalies of foot structure.
According to show creator Jackson Publick, "You can't really see it in the art, but I think RICO was supposed to look like he had some Rusty DNA in him."[1]
RICO's name was spelled "Reco" (Recombinant lusus naturae) in the subtitles for the episode A Very Venture Halloween and "RICO" in the book Go Team Venture!: The Art and Making of The Venture Bros.
References
Edit
Community content is available under
CC-BY-SA
unless otherwise noted.